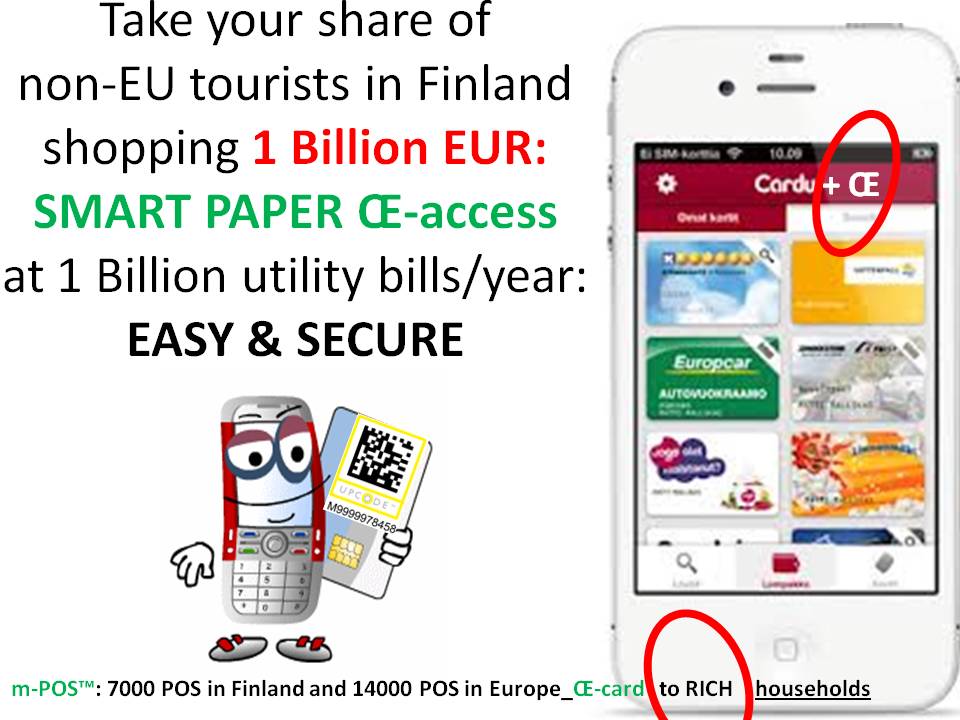 increased to 7000+18000 POS during 3Q 2013


Press-release
                                          

Œ-tourism: The Gateway to exciting experience
                              Finns offer European letter for cyrillic alphabet (and for Kanji):
Finnish start-up delivers at SMART PAPER™ (secure VAS-self-mailer) letters directly to each willing household in Ukraine the uniquely coded Œ-cards, providing innovative and secure* universal access to European infrastructure benefits; non-EU tourists spent in 2012 in Finland 1,2+ Bill. €.
PRŒSTO™-card is transcribed as SIMPLE & FAST: ПРОСТО (PROSTO) & PRESTO, hinting at central role of "unifying" letter Œ for cyrillic and Latin (European) cultures: Œ means also UE (United Europe) in Russian language. This thin and multi-formfactor personal ID-card allows to a non-Europeans to be securely IDentified for SIMPLE & FAST enjoying the European MAI®-level of digital services: loyal customers' benefits, mobile IDentity & mobile wallet services, cashless payments (e.g. in touristic resort areas) etc.                                                            Synergy is produced by:       
SMART PAPER, Finland: pressure sealed letters for transpromo VAS-distribution.
UpCode Ltd, Finland: 2D-optical/mobile barcode IDentification&Interaction systems MAI®.  
PRŒSTO™: SIMPLE & FAST secure delivery and use of "non-personal data"ID.
Since 2007 SMART PAPER implemented VAS-self-mailer™ utility bills (locally sorted vs enveloped) – it saved for one country 1 billion EUR in postage costs. MAI® saves costs in ≥50 countries: shops etc.
President of SMART PAPER Vladimir Kuparinen handed in on 24.3.2013 Œ-card No.1 with extra benefits (for travels to Finland and to non-EU) - to Japanese tourist Tae Susa for her special achievements in promoting Japanese culture to Finland, Russia, Ukraine & non-EU culture to Japan.
Video

Digi loves print (cortesy of UPM, Finland);
SMART future (cortesy of SMART PAPER, Finland)
_________________________________________________________________
(c) SMART PAPER, 2012